Final Checks was launched in September 2017 by leading makeup artist Danielle Everitt. Danielle has over 14 years of experience within the makeup industry for TV, Film & Fashion
About Final Checks
Final Checks Makeup and Hair Academy is the newest independent academy for full time and short courses in film, TV, theatre & fashion based in East London. Our academy is endorsed by the BAFTA's and ScreenSkills creating the highest level of training.
Final Checks has placed students into employment positions within the TV, Film and the Fashion Industry. Working with some the biggest directors and photographers to date. We have opportunities on a weekly basis for our students to build their portfolios and to join our agency after graduation.
Our team consists of artists with over 50 years of experience. From Astrid Kearney, Shamara Roper, Louise Constad and BBC Glow Up winners to train our learners with the highest quality of professional and techniques.
Final Checks Academy provides full time courses including Advance short courses, BTEC and VTCT qualification training for learners made up of differing ages, abilities, ethnic backgrounds and genders. Our students receive professional images for every unit they complete with professional models and photographers.
Business support is given with advice with their CV's Portfolio, How to be self-employed, and general knowledge on how to continually succeed into the industry.
After graduating all our learners are entitled to join our agency which offers them weekly opportunities. Learners are always welcome to return with other masterclasses or workshops that we offer at the academy.
Head over to our gallery to students work and success stories.
Make Up Industry Statistics
In 2019, 84,000 people were employed in the film industry, the third highest figure since 2010
In 2018/9, over half (54%) of people working in film and video production were self-employed, compared with 18% of the total UK workforce
In 2018/9, 23,000 students were entered into higher education courses in media/film studies and film production
Make-up artists on film and HETV productions can earn anywhere from £100-500 per day, depending on level, experience and training.
There are now over 15,000 film/tv production companies operating in the UK compared to just 8,000 in 2010.
The UK is home to Pinewood (Star Wars, Maleficent), Warner Bros. (Harry Potter, The Dark Knight, Mission: Impossible) , Elstree (The Crown, Strictly Come Dancing, The Voice) and many more
Our Courses
Our courses are the perfect training for your career. Each course provides you skills from your special occasion makeup to theatrical TV & stage makeup. The industry is very competitive so you will definitely need to have the drive to go with your talent. Most makeup artists are self-employed unless contracted with certain companies.
Nowadays it's important for all makeup artist to have a background of hairstyling. Having multiple skills will make it easier for you to gain contacts. This will also gain your financials to which can be very regarding when you have reached the top of your chosen profession. The industry is not take lightly; you will need to put 110% into your training to become a successful makeup and hair stylist.
We advise for all learners to keep an open mind in regards the areas they would like to take their career in. Your everyday filming job would be a 12-hour day starting at 7am. Catwalk and Fashion can vary from 6am to an everyday 9am-5pm day. You must be committed and passionate as they are very long days.
Like all successfully makeup and hair stylist you have to work up the ladder. Work experience and assisting is to be expected. Assisting gives you a great opportunity to work with some leading artists. Some assisting jobs you will not be paid. Once you have gain trust and shown you're committed paid jobs will definitely be on the arising.
Building your own portfolio is the key for your career… Whether it's for Fashion or Bridal you will need good quality images to showcase your work. For TV and Film you will need to collect your footage and create a show reel.
All the above the Final Checks team will give you full support and further guidance to achieve your goals.
VIEW COURSES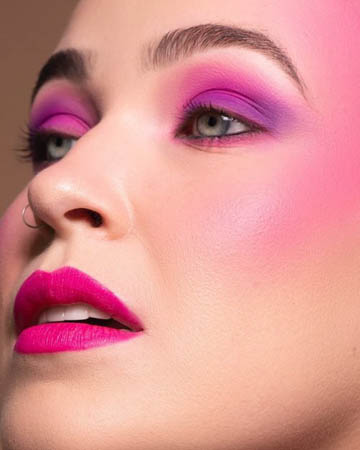 Our Experience
Final Checks Academy understands the importance of the makeup and hair industry. Our learners have been involved with high-profile productions which can be seen on our academies news page. Our tutors are established in their fields and we can give after-care advice, potential employment and achieve the career path in many areas that are on offer including
Learning from Tutors with over 14 years of experience and still working in the industry
Be part of our job opportunity network
Potential paid work within Final Checks Studio
Close connections to producers and directors
Work experience at West End Theatre shows
Post-graduate master classes
An independent academy working with high-quality brands
Final Checks Academy aims to offer both a professional and educational environment that is centred on fun and exciting learning. This gives our learners the passion to want to advance to the highest level possible. We are committed to inspiring our learners to show dedication and enthusiasm, and in return offer first-class training by industry professionals, together with the latest teaching techniques which aid our learners to achieve their skills and qualifications and progress into employment opportunities. Experience
Work experience is an essential element of this course and you will be encouraged to take part in a variety of educational visits throughout the year supporting local productions will be a compulsory element of this course. We will ensure that your training fits your personal requirements. Some units are delivered through blended learning packages and online support.
Candidates will be expected to work independently producing research material, evidence and assignments. Additional qualifications may be possible, such as Job Search, Interview Skills and Functional Skills.
Danielle Everitt (Director and Principal of Final Checks Makeup and Hair Academy is a professional makeup artist with over 14 years of experience in TV, Film and Fashion. Clients and companies include: David Beckham, Amy Childs, Craig David, Big Brother, Beats By Dre, Nivea and X Factor. Danielle has taught BTEC for 7 years in various colleges. She has also studied the BTEC in production arts (makeup up) in 2007. Danielle and her team will be able to bring you the new techniques and skills to become a professional makeup artist. Her work ethic has a very high standard which she will expect from her learners.
Danielle has a number of artists connected to the industry that will be involved in teaching specified units. This would give the learners the correct skills that will need to pass each unit. Below you will find all of our amazing staff & tutors at Final Checks Hair & Makeup Academy.
Working in the industry for over 13 years, Danielle has worked with some of the biggest celebrities and brands out there! Including David Beckham, Katherine Jenkins and Craig David.
Danielle is trained in all areas of Red Carpet to SPX Makeup. Her passion for makeup shines through her work.
Now Danielle is excited to be running a leading Makeup and Hair Academy offering learners incredible job opportunities within the industry.
Astrid is an international Makeup Designer, Creative Director and Educator. She specialises in project led briefs. She works in Fashion, Beauty, Catwalk, Celebrity, Commercials and Education. She has done editorials for many publications including Vogue, Tatler, Harpers & Queen, ID, Grazia, Elle, Conde Nast Traveller Magazine and works as a creative consultant creating events for makeup brands. Celebrities include Steven Spielberg, Lenny Kravitz, Sienna Miller, Damon Lewis, Martin Freeman, Daryl Hannah to name a few. She is an educator at many renowned academies internationally where she rewrites and improves course outlines to give a winning formula to inspire and excited students. She assembles the best dynamic teams to work alongside students and fuel their energy and oversees the development. She is a team builder who also gathers teams for catwalk shows and shoots. She is highly sought after for her vivacious sparkling personality and her ability to direct projects with outstanding inspirational results.
I am a make-up artist based in London, UK with over 15 years experience specialising in brand campaigns, fashion, editorial, events and education. I served as Head of Artistry and Educator at Illamasqua where I led make-up design for the brand, collaborated on new product development and wrote and delivered education programs for both staff and customers globally. My career has taken me all over the world and I have been lucky enough to work alongside some of the industry's leading artists, creatives and designers.
Clients include: Vivienne Westwood, Kanye West, Steve Madden, Boy George, Selfridges, Hammer House of Horror, Hello Sunday, Beauty Bay, Look Fantastic, Debenhams.
Publications: i-D, Hunger, Wonderland, Disorder, Stylist, Cosmopolitan, Vogue Italia, In Style, Evening Standard.
Has been an industry make-up artist for 18 years and teaching fashion and stage make-up, body art, special effects, prosthetics and wigs for the past 13 years.
Working in fashion at the start of my career, taking part in magazine shoots and London fashion week. I then started working in London's West end theatre, styling the wigs for Mama Mia and Dirty dancing. Later in my career working as a freelance artist for bridal, occasion make-up as well as working for celebrity private events which included the Prince and Princes of Brunei with attendees Whitney Houston, Eva Lonoria and Shannon Dohery.
Makeup is a passion of mine and I love sharing my knowledge and experience with the future generation of make-up artists.
Our Well-being Coach Ben and owner of @the_activ8tor
His journey, passion and mindset skills support our students and give them the motivation they all need.
South African raised Desmond is a seasoned traveller, having lived and worked in countless different countries. He has over 25 years of experience in Hair and Makeup. Fun loving and free spirited he has worked with some of the worlds top photographers , models and clients.
In the 20 years that Louise Constad has been a makeup artist she has worked with top photographers and directors of note including David Bailey, Herb Ritts, Nick Knight and Mario Testino. Louise is also the makeup artist choice for many of the worlds most beautiful women and high profile celebrities such as Michelle Pfeiffer, Sophie Ellis Bextor, Helen Bon Carter, Julie Andrews, Gabrielle, Willy Young and Oasis. She has won awards for her work Best Makeup Artist by Campaign Magazine, and Best International Makeup Artist from makeup artist to Kristin Scott Thomas and Juliette Bonoche on the Oscar - winning film The English Patient.
With over 7 years of experience, Ave is a passionate make-up artist who enjoys the art of beauty & everything that is creative in beauty. She began her training in a Theatre & Special Effects Make-Up School on Tallinn, Estonia and throughout the years has visited & completed masterclasses by the biggest names in the industry: Danessa Myricks, Ortal Elimeleh, Jordan Liberty, Roshar and many others. Ave is now enjoying working in bridal, with private clients & educating others.
Charli is a British born make up artist with over a decade of experience in the industry. Charli started her career with a degree in fine art, majoring in colour theory. It was this use of colour in which Charli has brought from her art work into her make-up work.
Charli has experience in many fields of the industry, specializing in fashion editorial and beauty make up, having graced covers and spreads in Hunger, I-D, Zeum, Ballad of and Schon magazine, and has worked for clients such as Net a porter, Bulgari and Nike.
Having always had a huge passion for art and creativity I discovered my love for makeup! I was also trained in Production Arts Makeup and Hair for stage TV and film. This 2 year course trained me in everything from Special effects and prosthetics to bridal and body painting.
I have worked on London Fashion week for Henry Holland, alongside Hairdresser Nicky Clarke and had editorial work for advertisements in places like Dorothy Perkins and boots.
Adeola is a Beauty content creator, bringing her skills and passion with makeup and social media to the academy. Working with M.A.C Cosmectics for many years her knowledge of new brands and products is inspiring. Adeola is now on every brands PR list including Anastasia and Morphe.
British makeup artist who is best known for being the 2019 NYX Face Awards UK Winner. She has also appeared as a contestant on BBC's Glow Up.
I love making unique content with a particular passion for creative looks. Originally a fine artist I decided to switch my canvas for my face and never looked back! I completely fell in love with makeup, and in 2016 @illumin_arty was born! It first started as a hobby and became my passion and career.
A young, well rounded freelance videographer specialising in filming and editing various types of video content; Music videos, events, adverts and social media promotional content. Michal is an easy going, trustworthy member of the group which captures the best moment of any scenario.
I am a young, tenacious creative art director, who focuses on cultural and political projects framed around the world of fashion. Working on conceptual advertisement through photography and videography. Currently freelanced, previously based in Manchester, now Based in London.
Shamara Roper
Patron/Tutor
Shamara Roper is a multi-disciplined hairstylist hailing from South West London. Specialising in textured hair, Shamara finds inspiration from her Jamaican roots to explore the medium. Defying gravity with her hair sculptures, using her craft to be rebellious and make a statement, her ethos being that hair shouldn't be tamed just nurtured.
Using cultural hair references and traditional hairstyling techniques with a modern twist, Shamara's work is pushing the boundaries with what can be achieved within her field. This courage with her craft has lead her to work with like-minded artists, publications and brands.
Works With
Vogue Williams, Gordon Ramsay, Anastacia, Patrisha Allison, Daisy Edgar Jones, Laura Harrier
Publications
Women's Health, Pride, Book, Wonderland, 1883 Magazine
Buster really is the epitome of someone doing what they love.
Submerged in art ever since he can remember, he is the master of doing what he knows best.
Being raised in the crazy world of tattoo art, Buster is used to being surrounded by the weird, wonderful and extremely beautiful which is reflected in his work. Buster has a knack of making women feel more beautiful with a simple compliment and a touch of his brush.
Dan is creative, reliable, friendly and keen to share his passion with others. Since early 2013 when he first started to pursue a career in special fx makeup, Dan has worked on several films and been involved with large public events. Although Dan primarily focuses on Fx makeup, he often designs and builds props, costume and has an extensive technical background in audio.
I am experienced in many areas of the hair and makeup industry but particularly editorial and theatre. I am good at finding common ground with most personality types, which I feel, makes working in a team enjoyable.
Work has been seen on west end Tina Turner, Royal opera house and 9 to 5 musical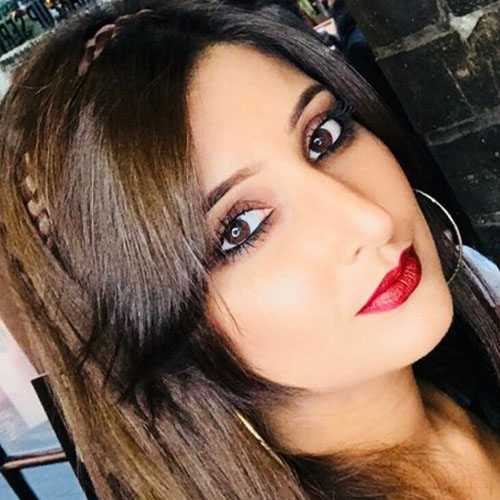 Harps is actively working in the world of fashion and beauty as a professional make up artist and hair stylist. She is extremely passionate about the tasks at hand and ensures her clients are entirely satisfied with their overall looks. Her attention to detail and care are next to none. She takes extreme pride in her work as well as her kit.
As a freelance make up artist, Harps has previously worked in a number of makeover studios in London on an ongoing basis. Alongside studio work she has also worked for Sleek Make Up and was a part of their major events such as 'Clothes Show Live', 'Salon International' 'Lovebox Festival' and 'London Mela'. Further work with Sleek includes writing beauty tips which go onto featuring in SKY online magazine. Her previous work consists of working in retail with luxury brands such as Chanel, Dior and MAC Cosmetics. She has also worked alongside celebrity stylist Gok Wan.
Vogue Williams, Gordon Ramsay, Anastacia, Patrisha Allison, Daisy Edgar Jones, Laura Harrier
Publications
Women's Health, Pride, Book, Wonderland, 1883 Magazine
Buster really is the epitome of someone doing what they love.
Submerged in art ever since he can remember, he is the master of doing what he knows best.
Being raised in the crazy world of tattoo art, Buster is used to being surrounded by the weird, wonderful and extremely beautiful which is reflected in his work. Buster has a knack of making women feel more beautiful with a simple compliment and a touch of his brush.
Our Partnerships
BTEC Pearson
The widest choice and full spread of vocations with BTEC Tech Awards. Find out more. BTEC Tech Awards give an holistic, engaged vocational experience. Find out more. Qualifications. BTEC Nationals. A Levels. Functional Skills. Apprenticeships. Business.
Tel: 0344 576 0045
BAFTA Scholarship
Final Checks Makeup and Hair is now endorsed by the BAFTA's giving our students the opportunity to apply for scholarships and more opportunities within the TV and Film Industry.  Head over to our funding page for more details
ScreenSkills Select endorses courses that have been recognised by practitioners as relevant to working in the screen industries, a process designed to answer industry criticisms that courses were producing students without appropriate knowledge and experience for the workplace.
Film Barking & Dagenham
5 minutes from our academy Darren Rodwell, leader of Barking and Dagenham Council, added: "It gives the green light to what will be London's largest film studio, so it's a major milestone in the renewal of a part of London badly hit by de-industrialisation and austerity."
It has already attracted big-budget films such as Marvel's Avengers: Age Of Ultron, Black Widow and Doctor Strange, as well as hit TV dramas including Netflix's Black Mirror.
Our students will benefit from employment opportunities during and after their studies
BTEC Pearson
The widest choice and full spread of vocations with BTEC Tech Awards. Find out more. BTEC Tech Awards give an holistic, engaged vocational experience. Find out more. Qualifications. BTEC Nationals. A Levels. Functional Skills. Apprenticeships. Business.
Tel: 0344 576 0045
Models Of Diversity
Where are the models of colour? The larger models? The shorter models? The models with a disability? The older models? Models of Diversity is the campaign for more diversity in the models we see every day. We call on the fashion, beauty and marketing industries to recognise the beauty in people of all races, ages, shapes, sizes and abilities. Our mission is to change the face of fashion and modelling.
Tel: 01737 552 864
Email: info@modelsofdiversity.org
Activ8tion
Activ8tion's aim is to inspire the younger generation and their families to live a healthy, positive and fulfilled life.
Tel: 07815 540 244
Email: info@activ8tion.co.uk
Havering – Mind
Side by Side is a supportive online mental health community where you can be yourself. We all know what it's like to struggle sometimes, but now there's a safe place to listen, share and be heard.
Tel: 01708 457040
Email: reach.us@haveringmind.org.uk
Chic Photography Studio
Friendly Essex photography studio for beauty, family, and corporate portraits
Email: info@chicmedia.co.uk
Kryolan
At Kryolan, we make make-up. But not like anybody else.
Because unlike everybody else, we actually make our make-up. As one of the first cosmetics brands in the world, we use our own formulas and recipes to manufacture our own products. We think of them. We create them. Formulate them and love them into existence. We've been doing this over 75 years. And we're still doing it today.
There is only one real professional make-up maker. There is only one Kryolan.
Web: www.kryolan.com
Together We Stand
We are an organisation supporting victims of abuse and harassment within the Arts and associated charities. Our intention is to help support victims and advise them on how to report incidents and find the professional help they may need. We are not law enforcement, nor are we legal or health professionals. We are acting as a go-between and confidant in the hope that people will find the courage to speak up and address these very serious issues which are prevalent in the Arts sector.
Tel: 07931521784
BEP Group – Work Experience Provider
BEP Group (Charity): work experience | work related learning and enterprise education | employability skills | mentoring
BEP Academy (Independent School): alternative education including gcse, functional skills and vocational qualifications
BEP Appointments (Ltd Company): recruitment agency
Matrix
This internationally recognised standard is a unique quality framework that measures and assesses the delivery of Information, Advice and/or Guidance (IAG) services that support people in their choice of career, learning, work and life goals.
The assessor specifically highlighted the following as areas of good practice:
✅ Our passionate approach to help students progress and succeed
✅ Use of technology to make our services accessible
✅ Development of informative resources
✅ Establishing effective links with partners and networks
✅ Our ethos of continuous improvement and robust quality assurance